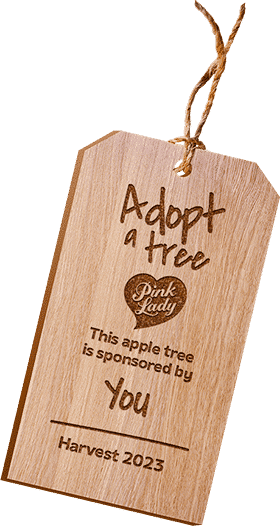 1. Will there be several harvest dates?
No, there won't. A single harvest date has been set by your grower to make sure that the apples are at the right stage of ripeness and that the event does not interfere with the harvest.
2. If the weather is bad (rain, wind, etc.), will the event still take place?
Yes, the event will go ahead even if the weather is bad. Everything will be done to welcome you in the best possible conditions so that you may leave with a tray of apples.
3. Does coming to the orchard involve any expenses?
The apple harvest and the visit to the orchard to meet your grower are entirely free of charge. However, we do not cover the cost of transport, food or extra activities.
4. I can't come to the harvest, will you be sending me my apples?
No, we won't. We offer you the possibility of coming to the orchard to harvest the fruit on the day scheduled, but we do not send fruit for quality and logistical reasons.
5. I've signed up for the harvest but I can't make it, what should I do?
Please inform us by email at adopt@pinkladyeurope.com.
Please note that this invitation is personal and cannot be passed on.
6. I've signed up for the harvest but I can't make it, may I pass on my invitation?
No, the invitation is only valid for the sponsor of the tree. You may bring 1 adult and up to 3 children but you cannot pass on your invitation.
7. Can my family or friends come with me and pick apples?
Yes, each sponsor may be accompanied by another adult and up to 3 children. Only one 4kg tray of apples will be picked for the whole group (1 tray per sponsor).
8. Will I be harvesting apples from my own tree?
Yes, your grower will explain how to pick the apples and how to choose them without damaging the tree or other fruit. You will be able to harvest up to 4kg of fruit: from your own tree or from the orchard in general, so that you only pick ripe fruit.
9. How many apples will I be able to harvest?
As specified in the rules, "If you come, you will be given 1 tray of 4kg of Pink Lady® apples to pick yourself, as well as a wooden sign with your name on it".
10. Will there be parking facilities on site?
You will have the opportunity to park on arrival, in a designated area which will be sign-posted. Please note, however, that this is an orchard, and the land may be damaged, as it is generally soil and often used by farm machinery.
11. What is the orchard's address?
You will receive an email a few days before the date with the exact address of the orchard and the GPS coordinates for the meeting point. Please take the GPS coordinates into account, as orchards are fields and most of the time do not have an exact address.
12. Do I need to bring my own basket to pick my apples?
You will be provided with a Pink Lady® cardboard tray which may contain up to 4kg of apples.
13. May I bring my dog?
This event is open to the public and families. We therefore ask you not to bring your pet for safety reasons and for everyone's well-being.
14. May I bring my camper van?
No, the orchards are not designed to accommodate vehicles of that size.
15. Is the orchard accessible with a pushchair?
The orchards are fields, and may be muddy, therefore not very accessible with a pushchair. If you can, we recommend you use a baby carrier.
16. I haven't found an answer to my question.